Poker players aren't limited by their devices these days. Today we're selecting our favorite apps for real money and club poker on Android operating systems. Some brands offer players better bonuses and rakeback than others, so look at our in-depth review for each room.
Register with GipsyTeam before downloading and take advantage of our support and promotions.
Released on the Google Play store back in 2017, the 888poker Android app has been through countless updates. Over two decades in business, they've become a trusted provider of real and play-money games. The tables have up to 1200 active hourly players during peak times, so you're sure to get action.
Swap back and forth between four different tables and mix games like cash, MTT, and extra-fast BLAST tournaments with jackpots. The app also gives you access to 888sports and 888casino if you want a break from the poker tables. 888poker has remained a softer room even with its massive player base.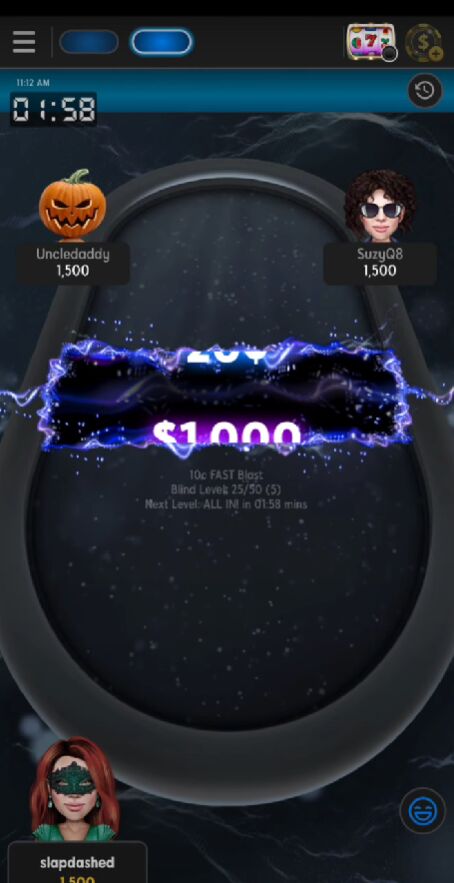 The No Deposit Bonus And Thousands In Daily Freerolls
888poker's No Deposit $88 Bonus is helpful for new players, but did you know they also offer a Welcome Bonus? Make a minimum deposit of $10 for the 100% matched Welcome Bonus, and 888poker will match up to a maximum of $1000. The No Deposit Bonus is $88 worth of tournament tickets and cash, but you'll need to register an account and follow the instructions sent to your email. Both bonuses become available as you play. Check out the specific terms in our review of 888poker.
Freerolls are frequent at 888poker. New Depositor freerolls run daily and give fresh members a chance to compete for a $500 guaranteed prize pool. As you play, you can level up your 888poker Club level, getting you access to free tournaments with big overlays. The daily level 20+ freerolls start at a $500 prize pool, but level 80+ players get to compete for a $10,000 monthly prize pool. No matter what level you are, you can still enter the $200 Daily Freeroll and build your bankroll.
SNAP is the fast-fold format that has become popular recently. 888poker offers SNAP cash games and tournaments. Blast is a super-turbo sit & go with three players. Prizes are 2x to 10,000x the buy-in and start at just $0.25.
Options At The Cashier
Visa and Mastercard are reliable options for depositing and withdrawing, but 888poker also uses Neteller, Skrill, and player-to-player transfers. Cryptocurrencies aren't available at 888poker yet, but you can convert your crypto on Neteller to get around this.
Our full review of 888poker outlines all of the rewards, different games, and rake amounts. Register and start playing here, or check out the next app on the list.
PokerStars has a much bigger player base than 888poker, so it's much easier to find the most suitable cash table or tournament for your bankroll and level. Their size has attracted slightly stronger competition than their competitors, but player skill at lower stakes is consistent with other online poker brands.
PokerStars has one of the leading Android applications in terms of software stability, client customization, and the range of games. All the familiar Texas hold 'em and Omaha cash games are available. If you prefer tournaments, get seated at Sit & Go's and regular MTTs. They've also got short-deck and SPINS, plus limited-time formats like the Neymar Jr Kick-Off.
All of the poker games available on the desktop app are also on the Android app. The home screen is more simplified, and the app is easy to navigate this well-contrasted buttons and a simple layout.
The competent interface allows playing four tables simultaneously, in landscape or portrait. You can choose to select your active tables or swipe left and right. You're able to customize your tables, cards, and avatar too. There are even custom bet sizing buttons.
The PokerStars Android app has 1,000,000+ downloads and a respectable score in the Google Play store.
$30 Freeplay And Tournaments With Massive Guarantees
PokerStars has two attractive bonuses running now, $30 Freeplay and a 100% matched bonus. $10 is the minimum deposit to grab your $30 Freeplay bonus. Look below to see how you receive that $30 over six days.
| Day | Bonus Released | Benefit |
| --- | --- | --- |
| 1 | 5x $1 Ticket For Spin & Go | Possible $10,000 top prize! |
| 2 | 5x $1 Ticket For Spin & Go | Possible $10,000 top prize! |
| 3 | 5x $1 Ticket For Spin & Go | Possible $10,000 top prize! |
| 4 | $5 Real Money | Use on any PokerStars game |
| 5 | 5x $1 Ticket For Spin & Go | Possible $10,000 top prize! |
| 6 | $5 Real Money | Use on any PokerStars game |
Double your deposit with the PokerStars 100% matched bonus. When you deposit $10 or more, an equal amount of locked cash will be added to your account. At cash game and tournament tables, each dollar of rake gives a player 5 points. Every time you accumulate 75 of those points, you'll unlock $5 of real cash for use anywhere on the 888poker app.
PokerStars isn't awash in freerolls anymore, but there are other tournaments stealing the spotlight these days. Even ‌tournaments with small buy-ins offer some sizeable overlay, like the $0.55 entry Bounty Builder with a $1000 guarantee. Check out the larger Pacific Rim and Marathon tournaments, but expect some stiff competition and crammed lobbies.
The fast fold poker at Stars is called Zoom, now offered for cash games and tournaments. Sit & Go Flash is a 3-way super-turbo battle for a random prize pool, with the potential to hit 10,000x your buy-in. To see all of the games PokerStars has, take a look at our full review of Stars.
Options At The Cashier
PokerStars processes transactions with all of the usual methods. Visa and Mastercard are available, plus Skrill, WebMoney, Neteller, and AstroPay. Bitcoin and other cryptocurrencies aren't offered as deposit or withdrawal methods yet. Some users convert their crypto using Neteller as a smart workaround.
The GGPoker Android App
We can confidently say that GGPoker is the biggest online poker provider in the world, holding 46% of the market share. PokerStars, for comparison, made up 25%. GGPoker holds the record for the world's biggest online poker tournament, with a prize pool of over $27,000,000.
GGPoker is known for having built-in HUDs, instead of allowing players to use 3rd party software. This helps create a more level playing field for everyone on the app.
The app is well-designed and adjusted for mobile devices. Every format available on PC or Mac is available on the GGPoker Android app. Cards are larger, buttons are spaced out and sized well. In portrait or landscape mode you can switch between four different cash games or tournaments. The Android app allows players to use Splash and other animations to interact with other players, livening things up a little.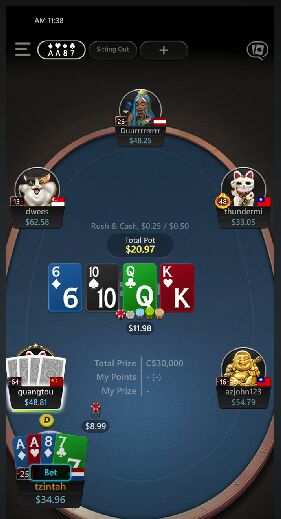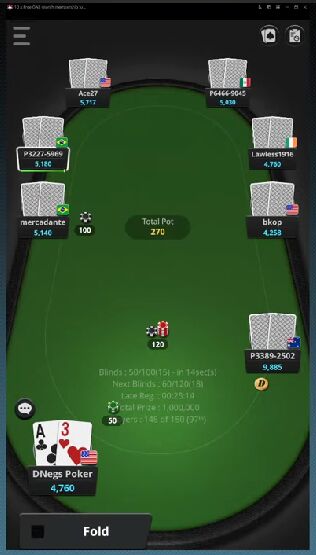 $100 Freeplay Or Matched Deposit
There is $100 in bonuses up for grabs, but there's a small catch if you want to get it all. First, make the minimum eligible deposit of $20. You'll receive a schedule that will tell you what challenge you need to complete each day to unlock part of the bonus. Over 6 days, you will receive $52.50 in bonus tickets. If you want the remaining $47.50, you'll need to play All In Or Fold sit & go's.
If Option 1 is too much of a headache, then choose the 100% matched deposit bonus. Any amount you deposit between $20 and $600 will be matched and released to your account.
The Honeymoon Bonus
This bonus is unique among online poker rooms. Challenges are presented every day for the first 30 days you spend at GGPoker. Not all of them are easy, but some can be quickly completed. If you complete every challenge for each of the 30 days, you'll receive a $150 cash prize.
Options At The Cashier
Of course, GGPoker offers standard deposit and withdrawal options like Visa, Mastercard, Skrill, Neteller, ecoPayz, and e-wallets. Players who use cryptocurrency will be overjoyed to hear that Bitcoin is accepted at the GGPoker cashier.
Tech Issues At GGPoker. We've been hearing reports about the Android app for GGPoker. Some players are experiencing freezing or crashes when trying to load the application. This doesn't affect every player, but it's a great time to get in touch with GipsyTeam support. Let us help you figure out the problem by sending us a message.
GipsyTeam support
We will help you solve
any
poker question
We work
around the clock
without weekends and holidays
We respond within 10 minutes
Increased rakeback and personal bonuses
Help with deposits and cashouts
Access to mobile applications
Solving problems with accounts
Technical support
Questions about the site and forum
The outdated interface from the old partypoker app is gone, replaced by a reliable new Android app that is smooth and thoughtfully designed. You can play 4 tables at once, just like other top real-money poker apps. partypoker also lets players chat in-game, and express themselves with animations and reactions. Expect the same support and security that you demand from other top poker brands.
At partypoker, you can play SPINS, the same format as Blast at 888poker, and Sit & Go Flash at PokerStars. Three players compete for a prize that's 2x-12,000x a player's buy-in. Their quick folding poker games are called fastforward, offering more action and less idle table time.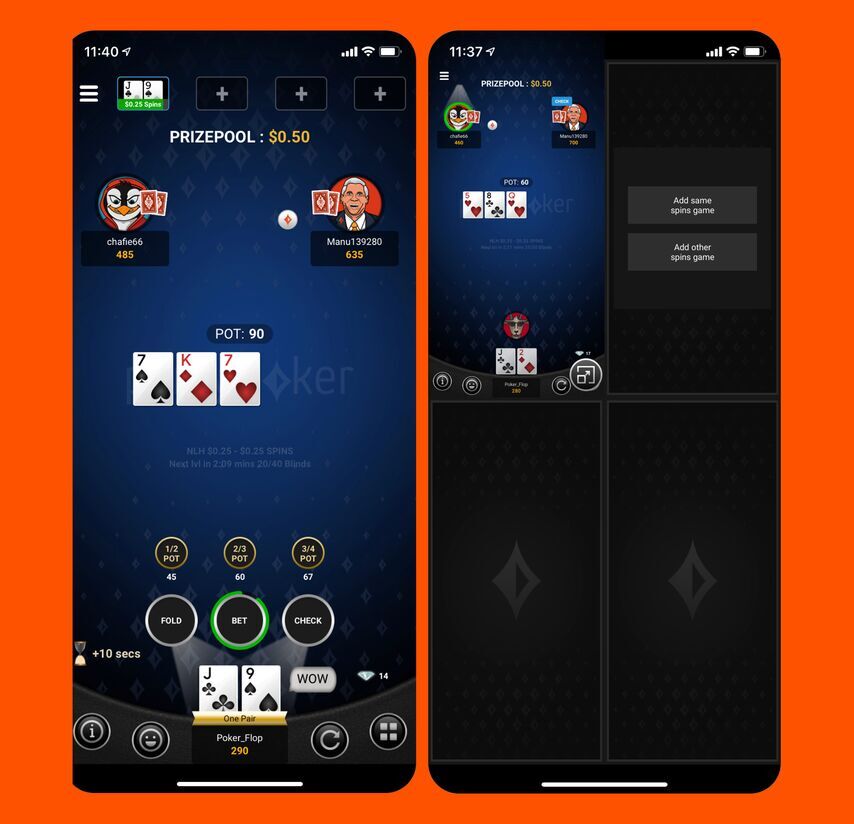 The Welcome Bonus And 100% Matched Deposit
The bonus for new players works a little differently than the other ones on this list. Deposit the minimum required amount of $10 and partypoker will drop $10 worth of SPINS tickets into your account. If you decide that you want to start with more, you raise the deposit to $20 and grab $30 in SPINS tickets.
Up to a maximum of $600, partypoker will match whatever amount you deposit. Just like with most online poker bonuses, you'll need to play and earn points to unlock increments of the bonus. We talk about building points in our partypoker review, plus how to use them.
Options At The Cashier
partypoker accepts all of the major payment methods. Staff told us that Visa, Mastercard, and e-wallets have the shortest processing times. They're one of the few poker brands to allow Interac E-transfers. You can also check money in and out using wire transfers, Much Better, InstaDebit, PaySafeCard, Luxon Pay, and instant banking.
Which Is The Softest Real Money iOS Poker App?
Even though it's considered one of the leading poker apps, 888poker still has softer competition than other competing brands. One theory is that the No Deposit bonus system brings in more recreational players than other online poker apps.
If you are looking for fishier or softer games, try out one of the poker club apps. There are exceptions, but it might be easier to gain an edge over the more recreational and casual player base.
Popular Android App Deposit And Withdrawal Options
| Method | 888poker | PokerStars | GGPoker? | partypoker |
| --- | --- | --- | --- | --- |
| Visa/Mastercard | Yes | Yes | Yes | Yes |
| Interac Transfer | Yes | No | No | Yes |
| Neteller | Yes | Yes | Yes | Yes |
| Bitcoin | No | No | Yes | No |
| Cryptocurrencies | No | No | No | No |
| Much Better | Yes | Yes | Yes | Yes |
| Bank Transfer | Yes | Yes | Yes | Yes |
Club Poker Apps For Android
Online poker club apps are responsible for a massive amount of traffic. Players have control over who's at the table and can create their poker clubs. They let you have the home game experience on your Android devices. It's not just a few players either. To give you an idea of how big these clubs are, PPPoker has over 1,000,000 downloads on the Google Play store.
PPPoker
Now offered in more than 100 countries, PPPoker has a huge community. Play Texas hold 'em, Omaha, short deck, and even open-face Chinese format on their clean interface. Cycle between up to three tables at once and tailor your poker experience to your taste. There are global tournaments, or you can host your own club's tournament. Chips are used at tables, not real money, and you'll get those chips from the club owners. The application doesn't control the exchange of player funds, the club owners do.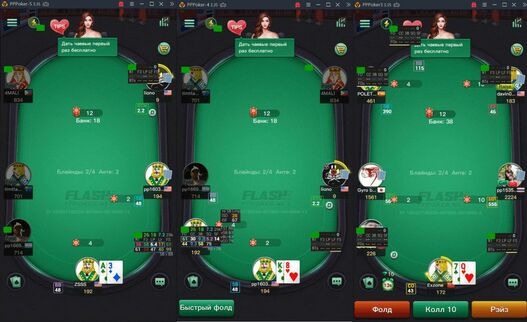 You need to have Android OS 4.4 or newer to download this app.
After just a few years, this app has over 500,000 downloads and outstanding reviews in the Google Play store. Like other poker club apps, ‌players get to decide who they play with, rather than being mixed with the entire player base. The option to play against random players is still there, but you can also create private games and clubs. Instead of playing directly for real money, chips are used at the table and converted by club owners.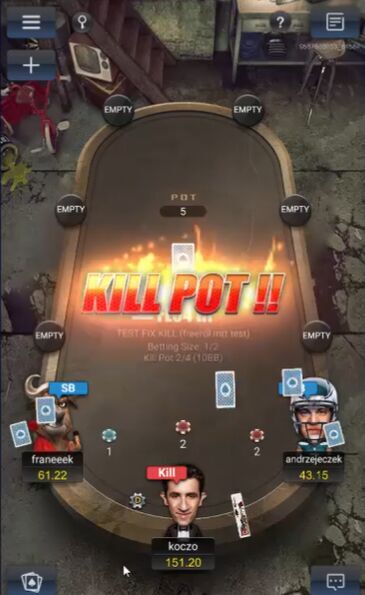 The PokerBros app works on Android 5.0 and up.