There's nothing quite like playing poker at a cafe or during your morning commute. Poker apps for iPhones have risen in popularity and improved with each year. The first real money application made it to iOS in 2010 and these days there are millions of dollars to be won across the many iPhone poker apps.
Weigh your options when you choose an app, because iPhone poker apps offer slightly different things. You'll only find trusted apps on this list, with fair bonuses, player rewards, and useful features.
Real Money Poker Apps For iPhones
The iOS app of the past was slightly clunky and unrefined, but the latest updates have ironed out a lot of the wrinkles. The interface isn't jumbled and the colors and contrast work well in whatever environment players bring their devices. There's no chat feature on the mobile apps, but players can express themselves with emojis and throwables.
Play up to 4 tables at a time in landscape or portrait mode. The iOS application installs quickly on iPhone, iPad, and iTouch, but you'll need iOS 11.0 or later for those devices.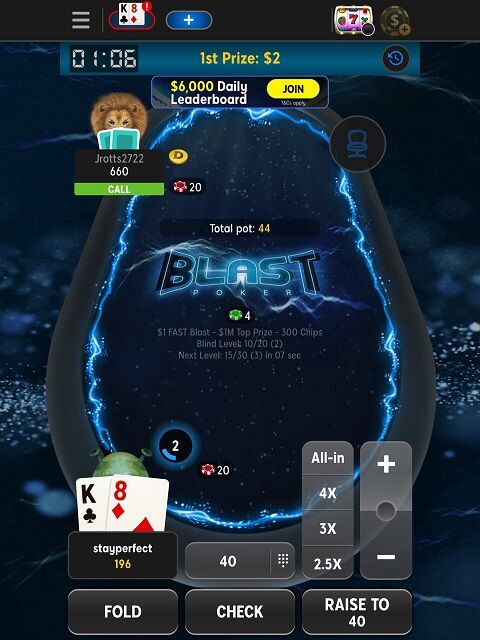 Great Bonuses and Soft Competition
This online poker is one of the only companies to let players start playing hands-on real money tables without a player depositing. The minimum deposit to collect the 888poker Welcome Bonus is only $10 and they'll match up to $1000.
As if the $88 No Deposit Bonus wasn't enough, 888poker also throws dozens of freeroll tournaments every day. The First Depositors Freeroll is a daily tournament for new players with a $500 prize pool. After that tournament, you'll still have other freerolls to enter, like the $200 Daily Freeroll. As your account's level increases, you'll get access to massive prize pools. Daily Level 20+ Freerolls have a $500 prize pool, and monthly Level 80+ Freerolls have $10,000 to split among the winners.
888poker has Snap, which is poker without the waiting, instantly seating you after a fold. There's also Blast, a super-turbo 3-way sit & go where the prize pool is up to 10,000 times the buy-in.
Options At The Cashier
888poker quickly processes iPhone deposits and withdrawals through Visa, Mastercard, Skrill, and Neteller. At this time, they haven't adopted cryptocurrencies.They also facilitate player-to-player transfers, but they'll need to verify your account for security.
For a closer inspection of everything that 888poker has to offer, take a look at our detailed review. You can create your account right here.
You'll be able to switch between up to 4 different tables on the Pokerstars iOS app. The level of development is apparent, and the application is easy to navigate even on small displays. There's clearly been time spent on arranging and sizing the UI. It's usable even with larger fingers and flips to landscape or portrait mode depending on your situation.
All of the filters and settings available on a computer are in the palm of your hand. It doesn't feel like players sacrifice anything by playing Pokerstars on Apple devices. The app requires iOS 12.0 or later to function.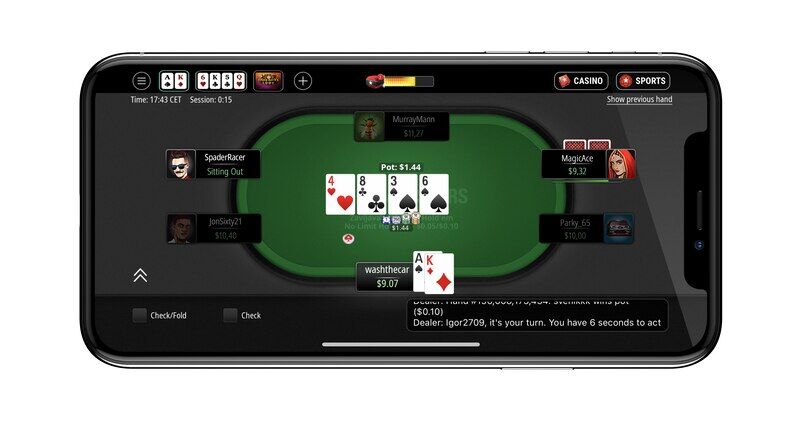 A Trusted Brand With Tons Of Traffic
This poker company has been a giant in the poker industry since their launch in 2001. It's as close to a household name as a real money poker app can get, for good reasons. PokerStars is known for high traffic and slightly tougher competition at the mid and high-stakes levels.
Just like 888poker, PokerStars rolls out the red carpet for new players. Deposit a minimum of $10 and you'll unlock $5 of tournament tickets and cash every day for the next 6 days. There's also a matched deposit bonus of up to $600, with the same minimum deposit of $10.
PokerStars isn't hosting as many freerolls as it did in the past, but they can still be found. Check to see if you are eligible by entering the tournament lobby and checking the requirements. Popular tournaments like the Mini Marathon and Bounty Builder series have huge overlays, such as up to $8000 guaranteed prize pools for a comparatively tiny $5.50 entry fee.
Stars have Zoom, the same quick-folding cash game format as 888poker's Snap. Sit & Go Flash is the super-speedy 3-player sit & go that's become universal among poker apps. The ones at PokerStars spin a maximum prize of 10,000x the buy-in, so even a $0.25 ticket could turn into $25,000.
Options At The Cashier
They don't offer cryptocurrency deposits or withdrawals, but the popular options are all there. Adjust your bankroll using Visa, Mastercard, Skrill, Neteller, AstroPay, and WebMoney. Cashier support is top-notch at PokerStars.
The GGPoker iPhone App
Poker tables at GGPoker get a massive number of players, with the highest average site traffic among poker apps. It's easy to download from GipsyTeam or official website.
As we'd expect, you can play poker in whichever orientation you choose, but the GGPoker app has far more impressive features. The iOS app has a built-in HUD, a move that satisfies the people who want these programs allowed and those who want a level playing field. Hand history isn't offered either, in a move to block hand-tracking software.
Optional straddling is tons of fun, but players love the Squeeze function too. In poker terms, that's a pot-stealing raise from a late position. In GGPoker's app, the Squeeze is the slow reveal that players can do during showdowns and all-ins. Wonder which card was coming next? Rabbit Hunt is another thrilling addition to the GGPoker iPhone app, that shows what card would have been turned over/
You'll find classic games of Texas hold 'em and Omaha variants, plus other exciting formats. Rush & Cash is GGPoker's fast fold style game, where players can cut out waiting in between hands. Spin & Gold is a 3-max and 6-max spin & go where players can win up to 200,000x their buy-in. Flip & Go takes the cash game concept of All-In or Fold and applies it to a tournament format. Choose your buy-in and go all in against 8 other players to eventually decide a winner. All-In or Fold is a cash game format with 8 big blinds per player, and two options: all in, or fold. There's also another variety called AOF Sit & Go. This app requires iOS 13 or later to put you at the GGPoker tables.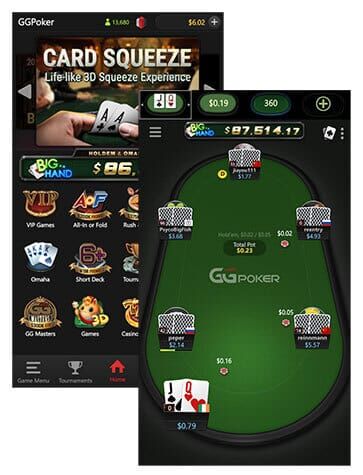 $100 Freeplay Or Matched Deposit
Before you start playing at GGPoker, you've got a choice to make.
You can choose to collect $100 in tournament tickets and cash with a minimum $20 deposit. There are conditions to follow if you want to get the entire $100. Of the total amount, $52.50 of tickets are released automatically over 6 days. Each day you'll get 5-6 tickets to All In Or Fold SNGs, but playing extra hands in this format is how you unlock the rest of the $100 bonus.
If you don't like the structure of the first option, you might like a simple 100% matched deposit bonus. The maximum GGPoker will match is $600 and the minimum deposit for this bonus is $20.
The Honeymoon Bonus
GGPoker welcomes new players with the Honeymoon Bonus. For the first 30 days of your love affair with GGPoker, you'll be set different daily challenges. They'll escalate in difficulty, starting out easy. For example, a challenge might be to play 20 hands of Texas hold 'em. 30 successful days in a row means $150 is added to your account, but there are plenty of other prizes even if you don't complete each day.
Options At The Cashier
GGPoker accepts deposits and handles withdrawals using Visa, Mastercard, Skrill, Neteller, ecoPayz, and e-wallet payments. They're also one of the few poker apps to accept Bitcoin at the cashier.
Now a 20-year-old company, partypoker has solidified itself among the top iPhone poker apps. There have been a few overhauls and updates, and the partypoker app is polished and reliable these days. Portrait mode and multi-tabling are included, plus chat and hand replays.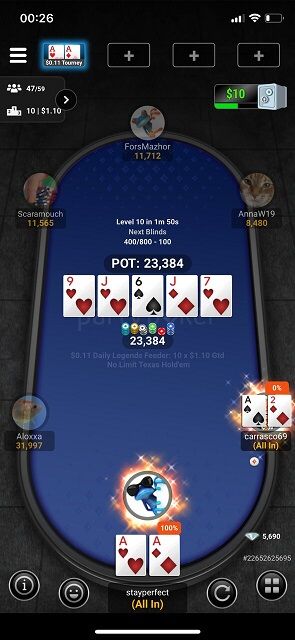 Your Apple device needs to be running iOS 11 or later for the partypoker app.
The Welcome Bonus And MyGame
At partypoker, the Welcome Bonus is combined with a matched deposit bonus. Deposit $10 to receive 10$ of SPINS tickets, or up the deposit to $20 for $30 in SPINS tickets. The matched deposit bonus runs alongside the Welcome Bonus, with a minimum deposit of $10 and a maximum matched amount of $600. The bonus cash is released as you build up loyalty points from playing in cash games and tournaments.
MyGame is partypoker's training and poker education resource, free for registered players. Get tutorials and replay hands using this helpful software.
Options At The Cashier
partypoker hasn't adopted cryptocurrency yet, but the list of deposit and withdrawal options is lengthy. Choose your preferred method from Visa, Mastercard, electronic transfer, Interac transfer, Much Better, InstaDebit, PaySafeCard, Luxon Pay, and Instant Banking. All of these methods are valid for withdrawal except for Interac transfers.
Which Is The Softest Real Money iOS Poker App?
888poker has the softest player base compared to the other iOS apps on this list. One of the reasons for that is the No Deposit Bonus, which attracts thousands of inexperienced players. Generally, stiffer competition is at mid and high stakes. Low stake cash games and SNGs are usually softer areas of poker apps.
Having said all of that, club apps are gaining a reputation for extremely casual poker players and beatable tables.
Popular iPhone App Deposit And Withdrawal Options
| Method | 888poker | PokerStars | GGPoker | partypoker |
| --- | --- | --- | --- | --- |
| Visa/Mastercard | Yes | Yes | Visa | Yes |
| Interac Transfer | Yes | No | No | Yes |
| Neteller | Yes | Yes | Yes | Yes |
| Bitcoin | No | No | Yes | No |
| Cryptocurrencies | No | No | No | No |
| Much Better | Yes | Yes | Yes | Yes |
| Bank Transfer | Yes | Yes | Yes | Yes |
Club Poker Apps For iPhones
You might not be familiar with club apps. They put players in control of the games, instead of being arranged and set up by the poker app. Organizations within the apps or individual players can host games with their own set of preferences. Even though ‌players have control of certain aspects, anti-cheat software is always used and player safety is a priority.
Player funds are managed by the club owners, and not the application. Your money is converted and chips of equal value will be used at the tables. This way, the applications can work around regulations and be offered in more places around the world.
A common trait with a lot of these poker club apps is weak and casual competition.
This is a poker club app out of Asia that appeared in 2016. They've been offering private games since then, with a variety of deposit options, including cryptocurrency. Start a club, or search for one to get started. The software is secure, however, and it will need a visual update in the next few years.
This online poker club has a trendy interface that overall looks slightly better and has a smoother feel than PPPoker's. Invite friends to games in your club or join clubs to compete with players around the world.