If you play online poker, you might have seen RNG somewhere on the website or poker application. RNG stands for Random Number Generator and it's important for many games, from slots and blackjack to Call of Duty and Tetris.
What is the RNG in poker and why should you care about it? Having true RNG is like having a dealer that shuffles the cards with complete randomness. RNG is essential and every poker site relies on it. Without a tested and certified RNG, the poker game's legitimacy becomes questionable. If the cards you are dealt aren't random, would you really want to play the game?
Poker players also use online randomizers to help them make decisions, using a technique called "randomizing". We'll talk more about why players use this method later. Let's talk about how poker sites use random number generators and then how poker players can use RNG.


Long-running room with lively cash games and eight-figure MTTs
GT Bonuses


Bitcoin and US-friendly room that allows HUDs
GT Bonuses


Global crypto-only room with bad beat jackpots and weekly leaderboards
GT Bonuses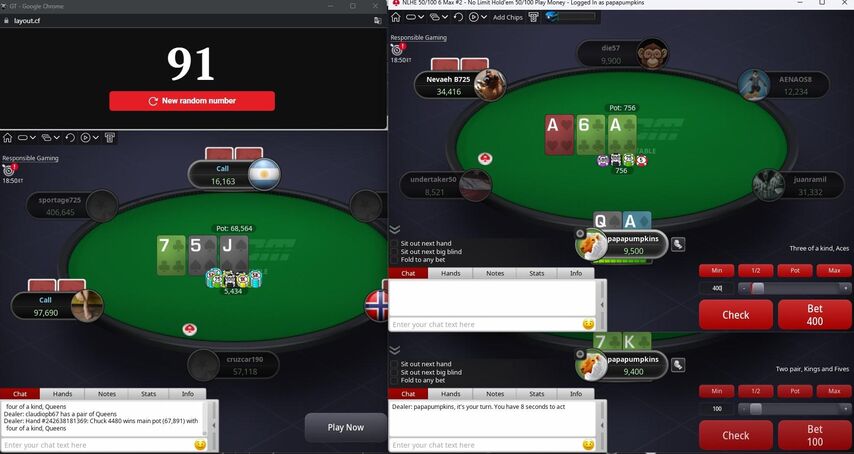 How Poker Sites Apply RNG to Games
RNG can be applied in different ways on poker sites.
Constant shuffle: Cards are dealt to players and only have a value once they are on the table or given to the players. In this form, the deck is constantly shuffled, even after cards are dealt to players.
Single shuffle: At the beginning of the poker hand, the RNG algorithm randomly decides the cards that will be dealt to players and laid out as community cards. This process is most like the dealing we have in live poker environments. Once the hand starts, there is no shuffling.
How Poker Sites Use RNG To Protect Players
If you scroll to the bottom of any trusted online poker site, you'll see a section about RNG. Sometimes, this will be under labels like "System Fairness", like on partypoker. This is where you'll see the poker site's certification.
Most of the time, the poker site has an RNG system and a 3rd party accreditor will test it. The random number generator has to pass a series of evaluations. Companies like Gaming Labs International and BMM Testlabs provide their seal of approval and re-test every one or two years.
Without one, you can't be as confident about the integrity and security of your poker game. Outside influences could be manipulating ‌outcomes and influencing the numbers, which is very bad news for players.
Why RNG Will Always Be a Priority in Poker
If a poker site has cheating or RNG manipulation going on, there's almost nothing that can save their business. Players will leave and join games on trusted sites; it's as simple as that.
For that reason, a lot of poker rooms display and promote their RNG software and certification. Players usually won't accept anything less than a completely fair experience online. You should always look for RNG certification on the website of every poker room you play on.
Major poker sites are always certified by trusted accreditors. A short list includes partypoker, 888poker, America's Cardroom, PokerStars, and GGPoker. All of these rooms have certifications on their websites.
The Truth About Online Poker RNG
The truth is, you can trust major poker sites to have true RNG (or as close to it as possible) for all of their games.
Sometimes, free poker games have true RNG, but sometimes, they don't. As long as you aren't paying for microtransactions and buying in-game items, you won't experience any downsides. Still, don't expect to see completely random hole cards or community cards.
Free-play poker apps marketed to younger players are not held to the same standards that real-money poker sites are. Some developers want to create exciting board textures and thrilling runouts, but RNG is not their priority.
Play Free Poker on Trusted Sites with True RNG
Not all free poker apps are created equal.
You can play story-based apps like Governor of Poker 3, which is a multiplayer poker game set in the Wild West. It's easy to start playing, well-designed, and completely free.
At PokerStars, you can set up your own private home games with play money or real money on the table. You can decide between cash games and tournaments, then send invites to your friends. These games can even be scheduled in advance – perfect for weekly poker nights.
For all of the games on PokerStars, you'll be randomly dealt cards with their RNG, certified by Gaming Laboratories (GLI). To get started, sign up for a PokerStars account, download the app, and then navigate to the Home Games section.
Our guide to Poker with Friends can help you out with simple instructions.
How Poker Players Use RNG to Be Balanced
Poker players sometimes use randomizer apps to play a balanced GTO strategy.
When a player uses a GTO strategy, they make certain actions with a certain frequency. For example, they might re-raise preflop 30% of the time when they are dealt Ace-King.
When this player gets dealt Ace-King, how will they know to re-raise or just call? Will they truly re-raise 30% of the time, or will it be more like 40%?
The only way to know with certainty is to randomize your decision. Some players use poker chips if they are at casinos or live poker rooms. By counting the chips in their stack, flipping them, or using other methods, they can create a kind of homemade randomizer.

Online poker players sometimes use a poker randomizer. Our browser-based randomizer works on phones and computers without a download. It's not a complicated piece of software and you'll find it very easy to use.
Select the range (best left at 0 – 100) and hit the red New Random Number button.
And there you are – a completely random number that you can use to be more balanced.
This randomization is a tool you can, and should, be using to play a GTO poker strategy.