Since 2006, PokerScout has been ranking poker site traffic. Why do players need to see traffic for different poker sites? It's extremely helpful to know this information before joining a poker room since nothing is worse than quiet tables and a weak selection of games.
The staff at PokerScout record how many players are online in certain countries. The rooms at the top of their list
This PokerScout review is going to save you time by summarizing the poker room traffic data.


Long-running room with lively cash games and eight-figure MTTs
GT Bonuses


Bitcoin and US-friendly room that allows HUDs
GT Bonuses


Global crypto-only room with bad beat jackpots and weekly leaderboards
GT Bonuses
Here's What PokerScout Shows You
When you visit the homepage of PokerScout, you'll see a review of the busiest poker sites in the world. It's free to check out this information online and no download is required.
GGPoker tops the list, which is unsurprising. They've been the largest, or one of the largest, for a long time now. The PokerScout list usually shows a 7-day average of just under 10,000 players. Most of them will be playing at cash game tables.
The review of this site has some incorrect information and doesn't seem to be up-to-date. That being said, the main page seems to have the correct player traffic data.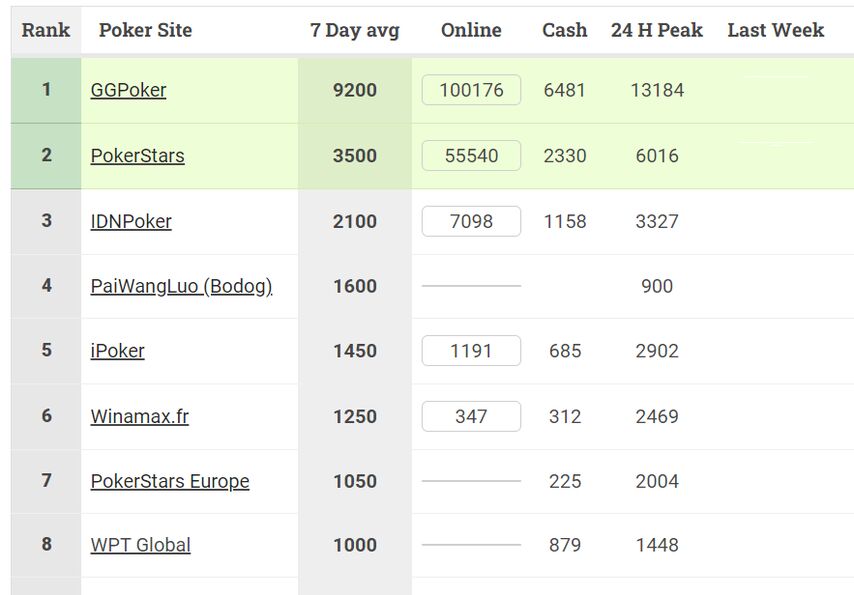 Why is GGPoker at The Top of The List?
GGPoker earned this traffic by having a spectacular marketing strategy. They team up with big names in the poker world (like Daniel Negreanu) and seem to always be updating their software with new features. They are one of the only sites to have features like Run it Twice, Straddle, No-Look All-In, Card Peeking (Card Squeeze), and the player avatar designs are unmatched by other sites.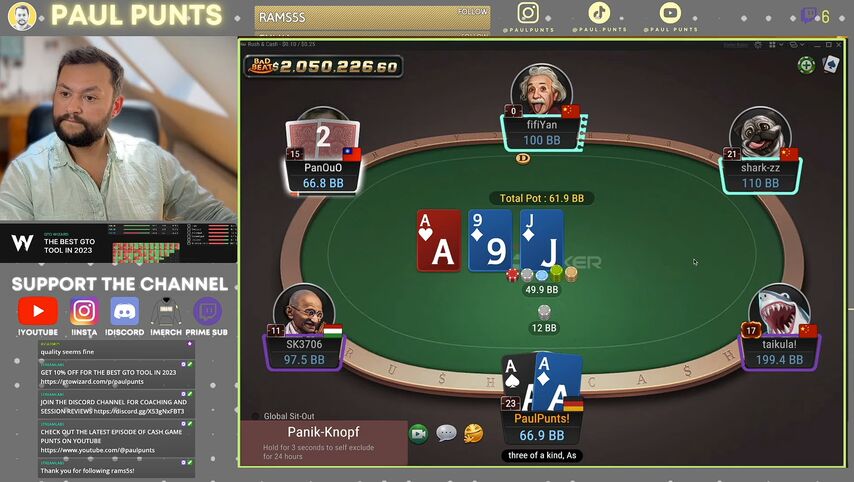 One clever promotion that grew GGPoker's player base was partnering with the World Series of Poker. They have online satellites that give players a chance to get into the most famous event in the world of poker (for a much lower entry price).
GGPoker also focuses on poker formats players enjoy, while adding new interesting games, like All-In or Fold.
PokerStars Ranks Second Place for Player Traffic
Ranking second is still a massive achievement, especially in a global market.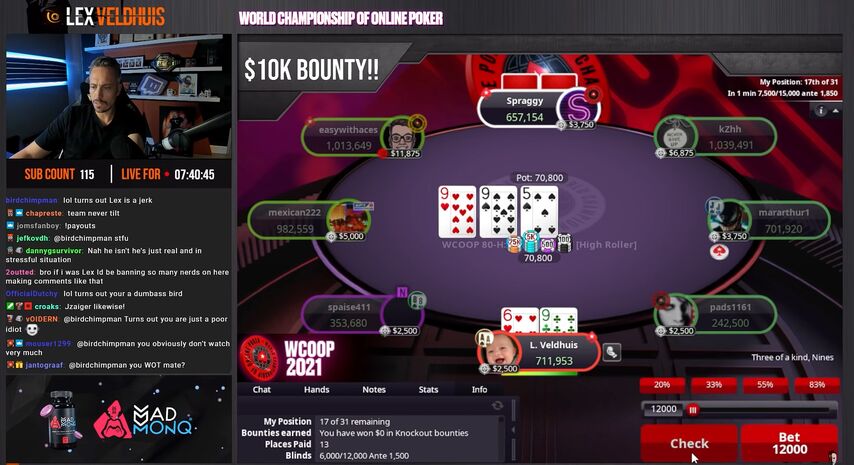 PokerStars holds a massive market share in online poker, for many of the same reasons GGPoker is thriving. The PokerStars brand goes way back in the poker world. They first operated as a play-money site in 2001 but switched to real money after a few months of testing. When Full Tilt had its fraud scandal which cost players millions of dollars around the world, PokerStars paid back players and took the chance to buy the Full Tilt assets.
It looks like PokerScout has split the traffic between each branch of the PokerStars company. You'll find different traffic numbers for PokerStars Italy, PokerStars Europe, plus the US and Ontario branches.
Asian Poker Sites Show Big Numbers Too
Third place on the PokerScout traffic review page is IDN Poker, followed up by PaiWangLuo, also known as Bodog. Both of these sites mainly focus on poker players in Asia and they've tapped into a very large market.
Natural 8 is part of the GG Network (GGPoker), but PokerScout doesn't show any player traffic for them. Since GG Network skins all share cash game and tournament player pools, this should make them one of the largest poker sites in the world, not just in Asia.
If you play on Natural 8, you'll experience the same games and bonuses as GGPoker players do, with very small differences. If you live outside of GGPoker's zone, you'll automatically be forwarded to Natural 8. Merging the pools is great for players because it improves the number of cash game tables and tournaments.
Players around Asia can also check out America's Cardroom or Coin Poker.
Where is The Traffic for Poker Clubs/Unions?
Since poker clubs are virtually unrestricted in any country, we should be seeing them somewhere around the top of PokerScout's traffic list. The reason why we don't is that it's very difficult to review how many players are on these clubs. It's clearly very high, but we don't have exact traffic numbers.
Club apps are identical to major poker sites, except that players are in control of the funds. Most clubs are exclusively mobile and the software needs an emulator to function on a PC.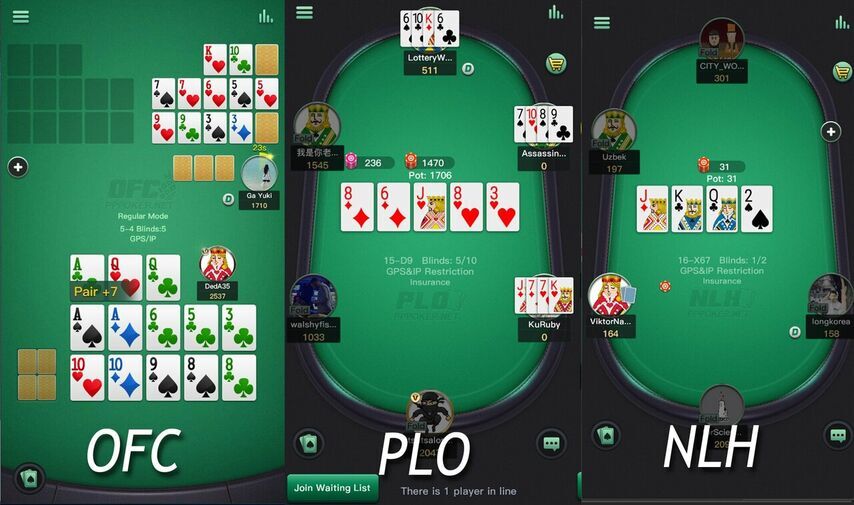 Some of these mobile apps, like PPPoker, have been downloaded by over a million players for Texas Holdem, Omaha, and Open-Face Chinese poker. You can only download the software from the Google Play Store or Apple App Store.
Mobile poker clubs are free and don't ask players to pay any price to hit the tables. If you choose to use the app to join real money games, that's your choice, but the developers won't be regulating it. Some players buy and exchange chips outside of the app. That being said, the RNG generators for poker club apps are always certified to industry standards.
We recommend that you check our reviews for PPPoker, PokerBros, or Suprema Poker. These are the top poker club apps and our guides will explain how to download and set up your own organization (or find one to join).