ChampionPoker App Review And List Of Poker Games
iPoker Network's poker room is ChampionPoker, another sibling of RedStar Poker. After more than two decades in the poker world, iPoker has earned the trust of many players. They've been around since 1999, but ChampionPoker joined in 2021. The company is licensed and regulated by the Curacao Gaming Authority to offer online real money poker.
Being part of iPoker means that the software looks identical, with small differences here and there. The stakes are all displayed in euros (€) on ChampionPoker.
ChampionPoker Software Review
ChampionPoker's app and table design are essentially the same as every iPoker skin, with logo changes. It's clearly not on the same level as world-class poker apps like GGPoker, but perhaps that's okay. If you're just looking for simple displays and fewer frills, ChampionPoker will be fine.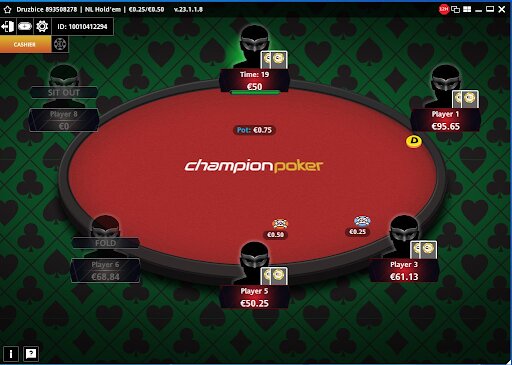 The app scores a point for organization, it's not cluttered with promotions or banners. Most of the lobby space displays quick-setup matches, with several main menu buttons across the top. That's where you'll find game formats and specific categories like tournaments and sit & go's.
Real Money Cash Games At ChampionPoker
There's a very focused player traffic at ChampionPoker, and it's mostly within the €0.01/€0.02 to €2/€4 range. The poker room has a surprising amount of heads-up tables too, with players waiting for opponents in the micro stakes, all the way up to the highest stakes. Expect to find several thousand players here in the evenings (CST).
ChampionPoker has three main types of poker with good player traffic:
No-Limit Hold 'Em (Stakes Between €0.01/€0.02 to €25/€50)
There are players at tables across the entire range of stakes, with slightly fewer at the upper end. Table sizes are only heads-up and six-max. Even though it's one of the most recent members of the iPoker family, there's clearly a lot of action at ChampionPoker.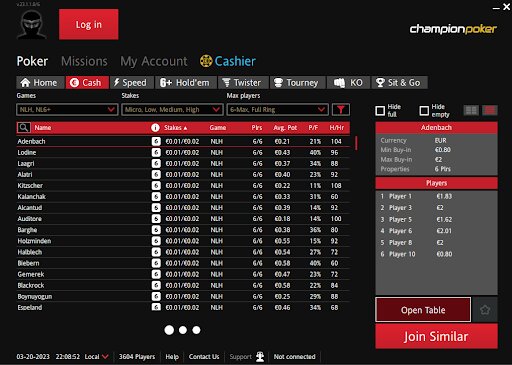 Pot Limit Omaha (Stakes Between €0.02/€0.04 to €25/€50)
The pot-limit Omaha table traffic is similar to the NLH section; most of the players are at the micro and low stakes. Still, players are waiting in heads-up PLO lobbies from the lowest to the highest stakes. For six-max games, the tables become less busy past the €2/€4 level. There are only 2 and 6-player tables for PLO.
Short Deck Poker (Stakes Between €0.02/€0.04 to €1/€2)
There are several short deck tables on ChampionPoker, but the buzz is still growing. A handful of the tables are usually busy, mostly at the €0.02/€0.04 level. There are only six-max tables for short-deck poker.
ChampionPoker has 16 formats in their Games menu, but most of them don't see much action and some don't show tables. Fixed-limit Texas hold 'em and fixed-limit Omaha have tables waiting, but not much traffic.
Twister Spin & Go's (Buy-Ins Between €0.50 to €200)
Of course, every poker site has three-way turbo sit-and-go tournaments these days. Hop into a lobby and battle your way to a randomly spun prize, up to 1000x your buy-in. The minimum prize is double your entry fee, so if you win, the worst possible prize is a double-up. The blinds start relatively small but increase quickly to force a result.
| | |
| --- | --- |
| Entry Fee | Maximum Prize |
| €1 | €1,000 |
| €5 | €5,000 |
| €10 | €10,000 |
| €50 | €50,000 |
| €200 | €200,000 |
Tournaments At ChampionPoker
Sit & Go (Buy-Ins Between €0.10 and €50)
The sit & go section of ChampionPoker has six and nine-player tables for a range of buy-ins. Sit-and-go lovers will have a much better time on PokerStars since there aren't as many SNG tables running on ChampionPoker.
Tournaments (Buy-Ins Between €0.20 and €200)
The tournament section has very good traffic and a surprisingly good spread of events. Unlike ChampionPoker's ‌cash games, tournaments have 8 and 6-max table sizes.
Tournament Formats:
Knockout: Receive a bounty when you eliminate an opponent.
Deep Stack: Players start with a large chip stack compared to the blind level. For example, blinds of 40/80 with a starting stack of 20,000 blinds.
Flight: The term that ChampionPoker uses for tournaments over multiple days at set times.
Best Stack Forward: Players can make multiple entries into a tournament, but only their best stack moves forward to the next stage.
Rebuy: If you're eliminated, but want to continue in the tournament, you can rebuy a fresh chip stack.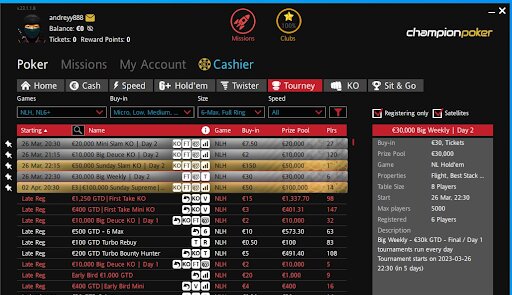 Popular Tournament Series At ChampionPoker
Most of the tournaments with prize pools above €10,000 are multiple-day events (flights), but there's a huge selection of single-day events below that level. Saturday and Sunday are the biggest days for tournaments, just like most poker sites. The weekend Eliminator Series has awesome overlays like a €12.50 entry fee for an €8,000 prize pool.
| | | |
| --- | --- | --- |
| Event Name | Buy-In | Prize Pool |
| €1,000 GTD Rebuy | €1 | €1,000 |
| Late Night Fight | €25 | €2,000 |
| Fists of Fury Rebuy | €50 | €5,000 |
| Slowburn Mini | €25 | €10,000 |
| Monday Sprint | €30 | €10,000 |
Freeroll Tournaments
ChampionPoker has €0.20 tournaments with small prize pools, but they don't run many freerolls. You've got to head to 888poker if you want to enter free tournaments. There are new ones starting almost every hour of the day, so there are always chances for free value.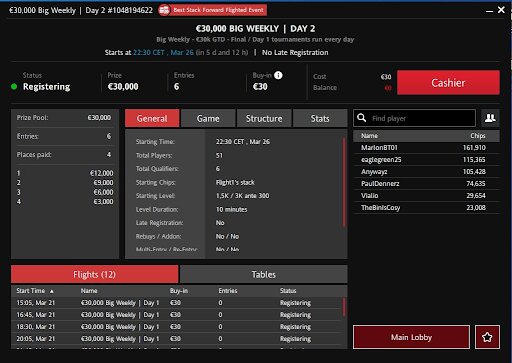 America's Cardroom hosts freerolls for cash and satellite tickets every day, just check our schedule and find one that works for you. They usually have similar start times, so you can multi-table a few freerolls at once.
ChampionPoker's Rake + Bonuses For New Players
The rake at ChampionPoker is 5% and lower for micro-stake games. For tournaments, it's typically around 9% and under.
When you sign up with ChampionPoker, you'll start climbing your way to more rakeback. Everybody starts at the Clubs level with just a 10% rakeback. After reaching Diamonds, then Hearts, and finally Spades, you'll take home 30% of your rake.
ChampionPoker has rake races for players who build up enough Loyalty Points (€1=10 points).
Prizes start at a low €5 for €50 of rake generated, but the more you play the more you can win. Reaching €30,000 in rake rewards nets you €5000.
New players deserve a real welcome, like $30 dollars in free tickets and a 100% match of your deposit, up to $600. That's what partypoker is offering, plus their minimum deposit is only $10 (USD). Head over to our guide and we'll tell you how to get a warm partypoker welcome.
How To Sign Up And Start Playing
The ChampionPoker app can be downloaded from their website for Android and Windows PC. It won't take up much space on your device and the download is fast. Unfortunately, there's no iOS app right at the moment.
Some locations are excluded from playing on the ChampionPoker skin. The United States of America, France, Germany, and several other nations won't be able to create accounts. If your country is on that list, you'll be able to make an account at America's Cardroom or GGPoker.
Deposit And Withdrawal Guide
ChampionPoker accepts Visa, Mastercard, Skrilla, USDT ERC/TRC, and Bitcoin. The methods they accept might change with new payment processors, so double-check in the Cashier section of the app. Methods change depending on where a player is located.
You'll need to confirm your identity by submitting documents to ChampionPoker. This is most important when it's time to withdraw and not a priority when making a deposit. It's best to verify yourself sooner, rather than later.
Frequently Asked Questions About ChampionPoker
Q: If I can't play on ChampionPoker, which sites can I use?
A: There are so many options for online poker and we have reviewed all of the best ones. No matter where you live in the world, you're probably eligible to play at either GGPoker, CoinPoker, or another iPoker skin like RedStar Poker.
Q: Does ChampionPoker have free play poker tables?
A: Just like other iPoker skins, ChampionPoker has real money and play money tables (but you won't earn Loyalty Points)
Q: Can I invite friends to ChampionPoker?
A: You can't invite friends to private clubs like you can with PokerStars Home Games.
Q: Does ChampionPoker have a lot of players?
A: During afternoon to evening times (CET) there are more than 5000 players online.