JackPoker Review: Should You Play on This Site?
JackPoker is a fresh face on the poker scene. The site was launched in 2021 and offers a streamlined poker experience with 3 formats to choose from (Hold 'em, Omaha, and 5-Card Omaha). Real money cash games are 6-max on this site, but tournaments (MTTs) can be 9-max too.
This site uses a browser-based setup, rather than a standalone application. The only exception is Android users, who can download their own app. On average, around 1000 players are online at any given time.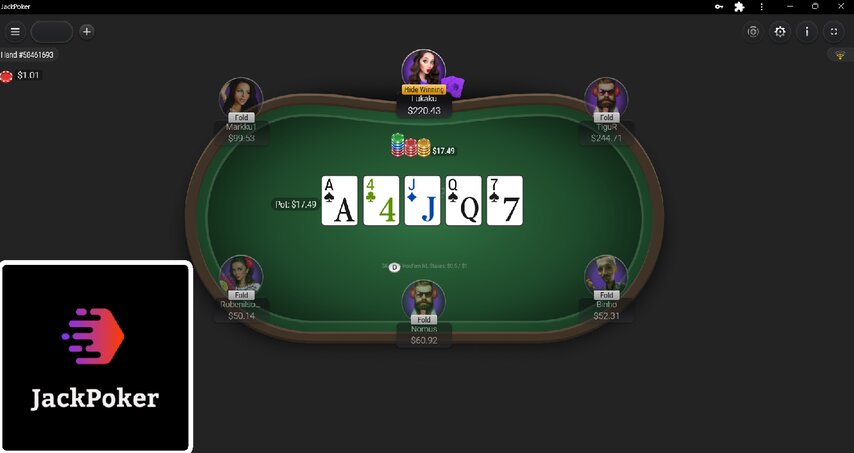 Let's address something concerning the site before we get into the JackPoker review.
Recently, some players and poker blogs have been concerned that bots are being used to inflate the player base. Bots are automated virtual poker players who make real players think they are playing a legitimate game. If that is true, it's a blatant violation of player trust.
We can not recommend this site to any players until JackPoker can guarantee a fair poker experience. With so many great online poker options elsewhere, playing on JackPoker is not worth the risk or the time.
Our staff can give you an update on the situation and point out better online poker options.
Our Review of JackPoker's Software + Mobile App
JackPoker's PC client has a clean design and a good layout. Not intrusive advertising or large banners get in the way.
When you first open JackPoker and log in, you'll see the game menu is organized at the top of the screen. There are just 4 tabs that players will mainly use for switching between their games. Of course, there are filters to sort games by the specific format (NLHE, PLO, or 5-Card PLO).

At the table, there are only a few colors and themes to choose from. Your avatar can't be too unique either, since there are only about 20 images and you can't upload custom avatars.
One of the nice features is a fullscreen mode that you can access from the bottom left corner. The window will quickly expand to neatly fit your screen size.
Poker trackers and HUDs don't have much success on this site, likely due to its browser-based design. We can discuss other options if you want to use tracking software on JackPoker, as there may be conversion apps you can use.
What Games Does JackPoker Have for Players?
There are three kinds of poker on JackPoker:
No-Limit Hold 'em
Pot-Limit Omaha
5 Card Pot-Limit Omaha
These formats are probably the most popular among players, but it would be nice to see short-deck (6+) Hold 'em at JackPoker.
Cash Games at JackPoker
Every cash game at JackPoker is 6-max and there are no heads-up tables. Running it twice is available on all cash game tables.
For such a relatively new poker room, the amount of players at tables is decent.
| Poker Format | Range of Stakes Available |
| --- | --- |
| No-Limit Hold 'em | $0.05/$0.10 to $10/$20 |
| Pot-Limit Omaha | $0.05/$0.10 to $5/$10 |
| 5 Card Pot-Limit Omaha | $0.05/$0.10 to $5/$10 |
Strangely, the PLO tables are not as busy as the 5 Card PLO tables. Usually, PLO is the second most popular format for online poker sites.
Most of the action is found at the lowest stakes ($0.05/$0.10) and there is a good amount of traffic at all stake levels, up to the maximum.

Luck or Muck (All-in Or Fold)
At the time we tested JackPoker's application, there were only a handful of tables available in this section. GGPoker has the exact same format, but far, far more player traffic.
All-in or fold games force you to commit to hands or throw them away. The blinds are high and you stand to gain a lot in a short amount of time if you choose your spots correctly.
The Luck or Muck section offers Texas Hold 'em and Omaha, but you'll usually only find Hold 'em games here.
If you want to play this format on a site with more traffic, GGPoker is the best place you can be. All-in or Fold is much more popular on this site and huge progressive jackpots are running at many of the tables.
Tournaments
JackPoker starts a new tournament every 30 minutes, which is normal for smaller poker sites. On PokerStars, tournaments start every 5 minutes on average.
There's a good range of buy-ins, with the lowest at $1 and the maximum around $200.
JackPoker has done well to have a variety of structures too. At a glance, you can see Turbo, Progressive KO, Hyper-Turbo, and their signature bounty tournaments called Jack Hunter.

You will find a much better spread of tournaments on sites like PokerStars, partypoker, or America's Cardroom. All three are long-running online rooms with solid reputations and huge player bases.
On major poker sites, tournaments run more often and typically have much larger prize pools.
JackSpins (Spin & Go)
Spin & Go tournaments are ‌fast 3-way battles over a randomly spun prize. At JackPoker, they have six different buy-in amounts that you can choose from. The prizes can be up to 10,000x the amount you buy in for.
The other nice feature is the ability to select multiple games with the slider. You can enter up to 5 JackSpins games with a single click.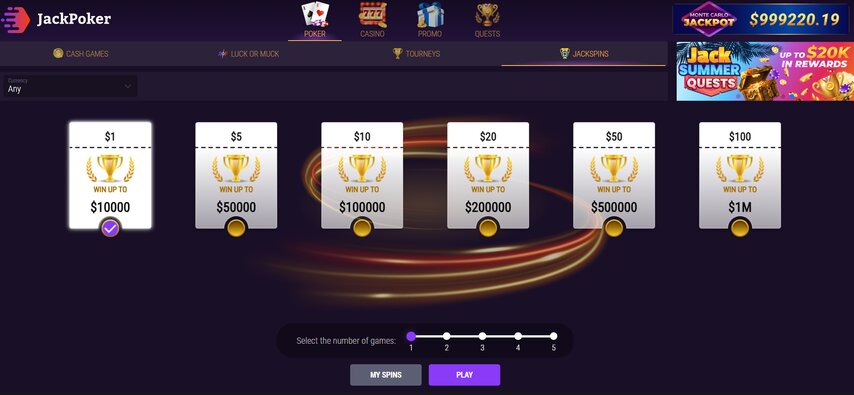 Other sites have a better selection of prizes and buy-in levels. Take 888poker for example; a $1 entry fee can get you a $1 million prize if the odds are on your side. That's significantly larger than the $10,000 offered at JackPoker.
888poker also has Spin & Go events with a $0.10 entry fee. The buy-ins range from $0.10 to $100.
Bonuses For New Players
The Welcome Bonus that JackPoker gives new players is adequate. It's a 3-part bonus.
1. 50% Instant Cash
Deposit a minimum of $20 and receive a $10 bonus reward. For every $10 in rake you generate at JackPoker, you'll get $1 of the Instant Cash bonus.
2. 25% RakeBack
JackPoker will calculate a rakeback bonus for you by finding 300% of your deposit amount. Every $20 in rake will net you $5 of this rakeback amount.
3. Up to 150 Free Casino Spins
The final part of the bonus is made up of free casino spins. The amount you receive depends on your deposit size.
Important note: There are better bonuses on poker sites that also have trusted reputations. Check our list of bonuses to pick from the best rewards on poker sites that GipsyTeam has tested and verified.
Rake and Rakeback at JackPoker
Players at JackPoker's cash game tables will get a 5.5% rake with a cap that varies depending on the stakes. Check our table below to see the rake for no-limit Hold 'em and pot-limit Omaha/5-card Omaha.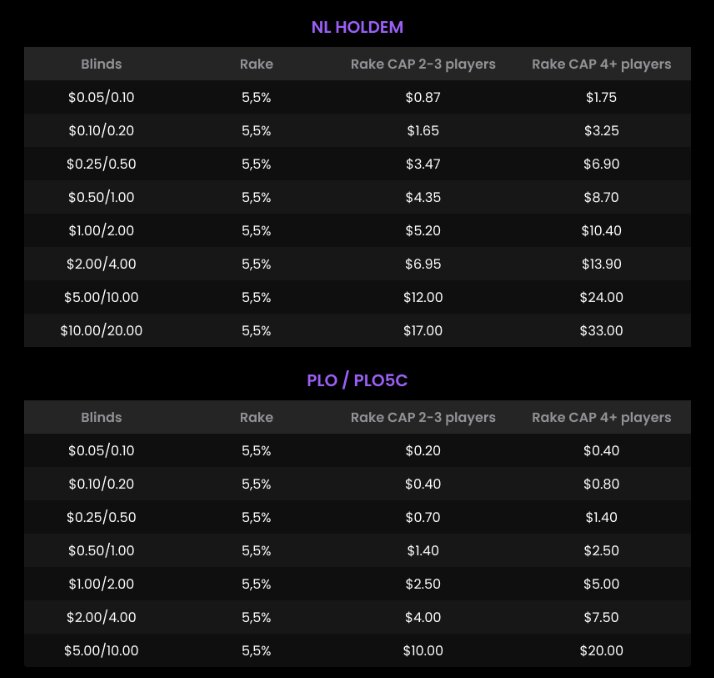 Tournaments at JackPoker have a rake of around 8%, but this may vary depending on the event.
Unfortunately for players, there is no formal rakeback system other than the bonus rakeback. This is a bit disheartening, especially considering the high rake, There is also a lack of loyalty programs or VIP rewards for players at JackPoker.
Download and Sign-Up Instructions for JackPoker
You can register yourself and start playing on JackPoker without a download, though we do not recommend using this site for the reasons we mentioned earlier.
JackPoker's website claims to have a PC app you can download, this is a bit misleading. It's actually a Chrome extension with a desktop shortcut. For this reason, it's an identical experience whether you choose to play from your browser or with their JackPoker "app".
There is a mobile app for Android devices, but you must be registered to get the link. Once you have an account with JackPoker, head to their website and select Download Application.
Depositing and Withdrawing from JackPoker
The cashier at JackPoker is more than adequate, offering a mix of traditional and modern options. There are well-known processors like MuchBetter and AstroPay, plus Paybrokers and cryptocurrency.
JackPoker allows Bitcoin, Litecoin, ETH, and even Dogecoin.
If you need help with any of these options, get in touch with our staff. We will help you find a workaround or direct you to a more suitable poker site.

The cashier has options to suit anyone, but we don't recommend you use it
Frequently Asked Questions About JackPoker
Does GipsyTeam recommend JackPoker?
No, we do not. At this time, GipsyTeam can not encourage players to use this site. If bots are active on the site, as some players have strongly asserted, you should avoid spending time here. There are much better poker sites out there.
Which countries are restricted?
Answer: Austria, Aruba, Bonaire, Curacao, France, The Netherlands, Saba, St. Maarten, Singapore, Belize, St. Martin and USA, United Kingdom, Sweden, The Netherlands, USA, France, and Belgium.
Where is JackPoker registered?
JackPoker has a registered office in Willemstad, Curacao.
How long do withdrawals take to process?
Withdrawals generally take 24 hours to process.
Do I need to verify my identity to withdraw from JackPoker?
Yes, you will have to submit standard verification documents like a passport or driver's license to proceed with your withdrawal.