Online poker went through some changes post-pandemic. There were more players than ever and new ways to play. Poker clubs grew in popularity very quickly, allowing friends to host private games or join other clubs, regardless of where they live.
Poker sites like GGPoker, 888poker, and PokerStars mix you in a huge pool of players. Poker clubs work differently; splitting players up into smaller groups called clubs or organizations. It's up to you which clubs you join and you can also decide who joins the clubs you create.
On the surface, these poker club apps are free-to-play, which makes them legal in many jurisdictions. Deposits and withdrawals go through club agents, something we'll explain in the next section. Read along to learn everything you need to know about poker clubs, including how to begin playing.


Long-running room with lively cash games and eight-figure MTTs
GT Bonuses


Bitcoin and US-friendly room that allows HUDs
GT Bonuses


Global crypto-only room with bad beat jackpots and weekly leaderboards
GT Bonuses
How to Join Clubs and What Are Agents?
Joining a poker club isn't the same as signing up at a poker site. You'll need to download the software, then search for a club that suits your needs. Most apps offer the same formats right now, such as Texas hold 'em, Omaha, and short deck (6+).
Our team is familiar with the poker club landscape and can direct you to profitable clubs. Once you've chosen a mobile club app, it's time to find a club. Get in touch with us for help with this step.
GipsyTeam support
We will help you solve
any
poker question
We work
around the clock
without weekends and holidays
We respond within 10 minutes
Increased rakeback and personal bonuses
Help with deposits and cashouts
Access to mobile applications
Solving problems with accounts
Technical support
Questions about the site and forum
Use your judgment when joining clubs, because they don't have the same centralized cashier that standard online poker sites use. To remain fully legal around the world, ‌developers have no connection to any real money transactions and do not endorse them. On a poker club application, you won't be funding your account directly as you would on a regular site. You'll find increased safety in clubs with a large number of players and recommendations online.
Agents work with and for poker clubs, fulfilling many different roles like:
Connecting players with clubs
Promoting clubs and attracting new members
Handling deposits and withdrawals
Troubleshooting software issues, account problems, and more.
Paying out bonuses and rakeback to players
Deposits can be made with any option that the agent or club organizer accepts. They'll always give you a list of payment processing methods, which include Bitcoin and cryptocurrency, along with Visa, Mastercard, Skrill, Neteller, Luxon, and MuchBetter.
Which Poker Club Apps Are Worth Joining?
Poker clubs have player bases that rival the largest online poker sites. The apps have been downloaded millions of times, so they aren't lacking traffic. In countries where online poker is usually illegal, poker clubs are both the best and only option.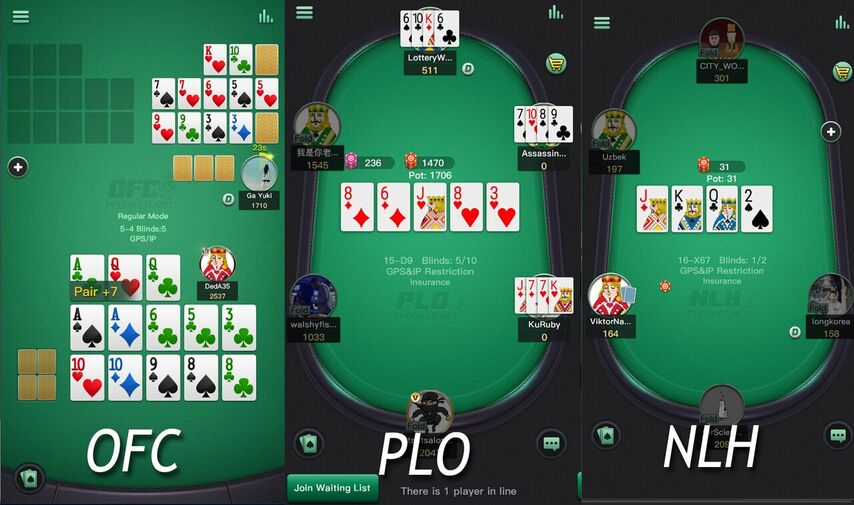 You can usually download the applications and play poker for free, but you need to get in touch with agents if you want to play real money games.
Rake and rakeback are controlled by the game hosts, but you can expect rake to be anywhere from 3% to 5% (and higher). Rakeback isn't always guaranteed, so let our staff guide you to clubs with attractive cashback.
Note: Chip values displayed in poker clubs aren't always a 1-chip to $1 value. Club owners and staff set the value of chips in some clubs, so always confirm the stakes you are playing.
PPPoker was one of the earliest poker clubs on the scene and it has well over 1 million downloads on Google Play alone (which doesn't include other sources). The software is well-made and has shielding from DDOS attacks and other disconnection protection features. Players can switch between three tables at once from their mobile devices. The PPPoker app is available on the App Store and Google Play.
Poker Formats:
No-limit Texas hold 'em (NLH)
Pot-limit Omaha (PLO)
Open-face Chinese poker (OFC)
Short deck (6+)
U Poker was started in 2018, just before the pandemic brought everyone's home games from living rooms to devices. Like other club apps, you have the freedom to set up your own club or join another on the platform. The app has a large player base from Asia and has the advantage of being available on Windows PC, not just iOS and Android. The U Poker app allows you to play 4 tables at once on a well-sized mobile display or PC app.
Poker Formats:
No-limit Texas hold 'em (NLH)
Pot-limit Omaha (PLO)
Open-face Chinese poker (OFC)
Short deck (6+)
Mata Ases (Mexican Poker Variant
Suprema Poker is a fresh face in the poker club scene, opening in 2021 during the pandemic. The app supports several different languages and multi-tabling 4 different games at once. Games are either heads-up, 6-handed, or 8-handed. Superma Poker doesn't have a global lobby like some other club apps, only private clubs that require approval to join. After you're in the club, you'll get to make a deposit and get into the game.
If you need to hand finding good clubs on Suprema Poker, get in touch with our team.
Poker Formats:
No-limit Texas hold 'em (NLH)
Pot-limit Omaha (PLO)
Open-face Chinese poker (OFC)
Short deck (6+)