A rush can be a term for a winning streak, like a heater or a hot streak. That sounds great, but this article is actually about a fast-paced poker format called rush poker.
What is rush poker?
Rush poker is a format that you can play online and is usually called fast-folding or zoom poker. It's a normal poker cash game – until you fold. Instead of waiting for new cards and watching the action in front of you, you will appear on a new table at the beginning of a fresh hand.
For poker players who want to improve quickly and play more – rush poker solves a big problem; the wasted time in between hands.


Long-running room with lively cash games and eight-figure MTTs
GT Bonuses


Bitcoin and US-friendly room that allows HUDs
GT Bonuses


Global crypto-only room with bad beat jackpots and weekly leaderboards
GT Bonuses
In this article, we'll sometimes say "fast-fold poker" instead of rush poker.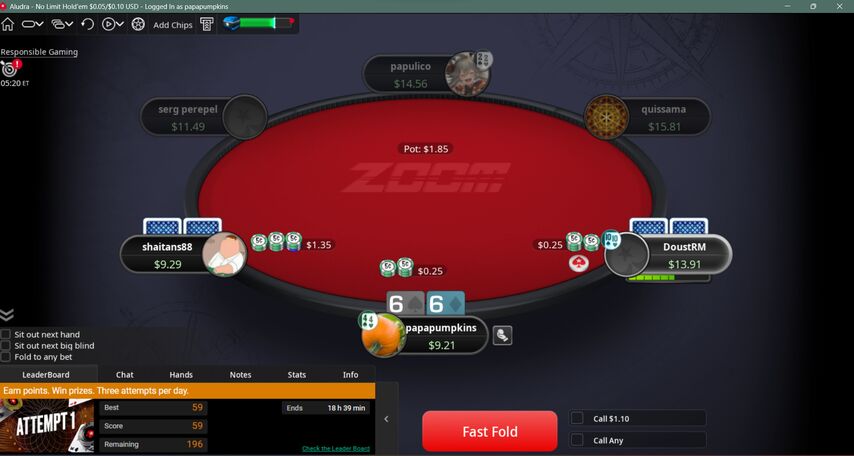 What Are Rush Poker Games?
Around 2010, rush poker was introduced by Full Tilt Poker, a site that isn't around these days. The format addressed a major complaint about live and online poker – there's too much waiting around in between hands!
It's more common to see 6-max rush games than 9-max because it allows the poker site to get players into the new games quicker (sometimes as fast as one or two seconds).
Most of the time, you'll see fast-fold cash games, but PokerStars uses it for fast-fold tournaments as well.
You could play eight cash game tables and get the same result, but then you'll have to keep track of lots of developing situations at once. Rush poker means that a player doesn't have to switch around and can still play hands back-to-back without downtime.
So are the rules in rush poker different to a normal cash game?
Here's What is Different About Rush Poker Games
When you are at the table and you have your cards, a rush poker game will feel just like a normal cash game. Still, there are a few differences you need to know about.
Click Fold – and you're off to a new table. Any time that you have a decision that will cost you chips, you can fold. Once you click the Fold button, you will go straight to another table. That means you won't see the action on the table after you fold, but you can usually see a hand replay if you're feeling curious. Partypoker has a feature called Fold & Watch so that you don't have to wonder what happened after you left.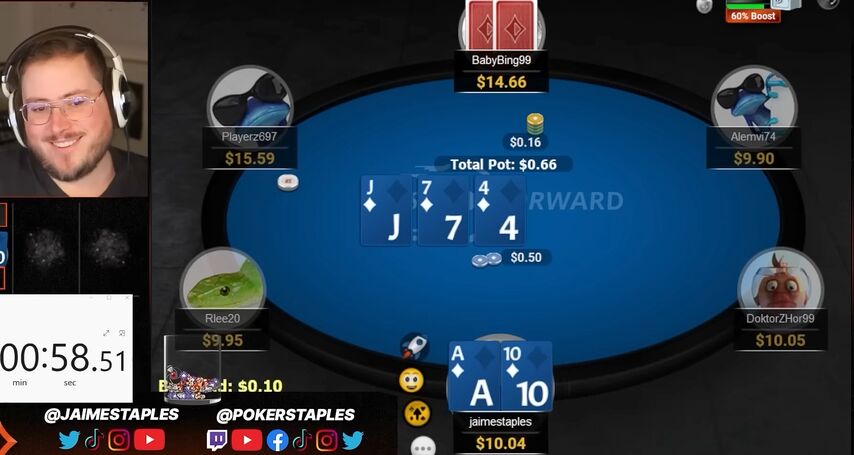 Players enter a large pool instead of choosing one table to sit at. When you enter a fast-fold cash game, you won't choose a specific table. You'll enter a large pool of players (usually with hundreds of people) and then automatically be sent to a table. The poker site will automatically track your table position so that you pay a normal amount of big blinds.
You can find rush poker (fast-folding poker) on all of the major poker sites. Each platform will have a different name for its rush poker games, so look for anything that sounds speedy!




BetOnline
Bitcoin and US-friendly room that allows HUDs


CoinPoker
Global crypto-only room with bad beat jackpots and weekly leaderboards
Register using this link to get access to GipsyTeam bonuses:
Increased first deposit bonus
Increased rakeback and reloads
Help with deposits and cashouts
Access to closed freerolls
Round-the-clock support
What is Rush Poker Called on Different Sites?
On all of the different sites, the names for rush games sound speedy.
You can also play in PPPoker's clubs and enjoy 50% rakeback. Get in touch with GT Support to be connected to these clubs.
GipsyTeam support
We will help you solve
any
poker question
We work
around the clock
without weekends and holidays
We respond within 10 minutes
Increased rakeback and personal bonuses
Help with deposits and cashouts
Access to mobile applications
Solving problems with accounts
Technical support
Questions about the site and forum
We Ranked the Busiest Rush Poker Sites
According to our poker room traffic data, three sites dominate the fast-folding poker niche.

1. Rush & Cash at GGPoker: Highest Traffic Rush Games for NLH and PLO
According to our traffic measurements, GGPoker has the highest number of players in rush poker games. Their Rush & Cash games see almost a thousand players at the lowest limits (during peak hours). Even at NL50 and NL100, the games get hundreds of players. Their PLO Rush & Cash games get less action, but still more than almost any other poker site.
2. Zoom at PokerStars: Great Option for PLO and NLH
Even though Stars doesn't have as many players as GG, the numbers are very healthy and will be enough to satisfy any fast-fold lover. The lowest stakes (NL2) get the most action on the site, with around 300 players during peak times. If you play higher stakes, like NL50, NL100, or NL200, then GGPoker will offer more player traffic.
3. Fast Forward at Partypoker: Decent Room for NLH Micro Stakes Rush
Partypoker is the third busiest site for fast-folding poker (almost tied with 888poker). It's not a busy place for mid or high-stakes rush games, but there are enough players between NL2 and NL25. At those stakes, partypoker gets about 100 players.
Rush Poker or Regular Cash Games?
Let's start by going over the advantages of regular cash games and then fast-fold poker.
Advantages of Regular Cash Games:
In a regular cash game, the competition is sometimes weaker than it is at average rush game tables. This is more true at low and micro-stakes especially, and less at mid and high-stakes tables. You can select tables in regular cash games, but you can't do that in rush games.
It's also easier to develop reads and create exploits to use against your opponents. Once you sit with the same players for a while, you can adjust your strategy for each one.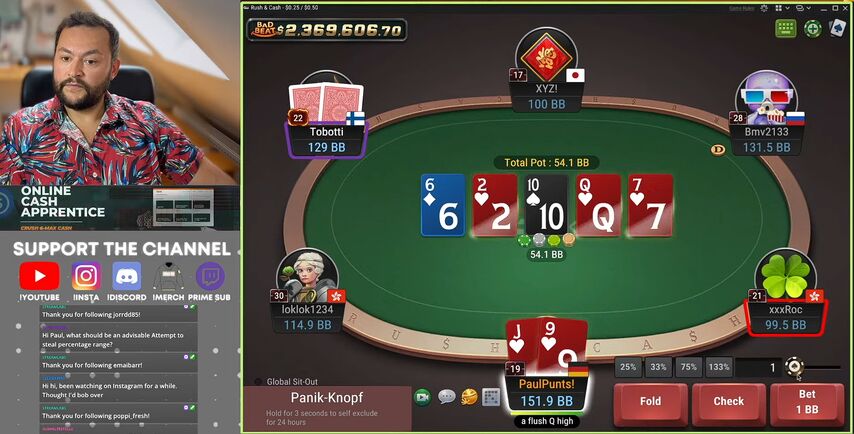 Advantages of Rush Poker Games:
In theory, you can improve your strategy faster by playing rush poker games – at least for general concepts. Players can see more hands and get familiar with poker much faster.
If we take that theory a little further, playing more hands an hour means that you could move up the stakes faster, especially if you are studying the discipline.
It's easier to track and focus on a single table as well, rather than multi-tabling 4 or more at once.
This Poker Site has Extra Rewards at Rush Tables
Fast Forward Games on partypoker pay you extra reward points, so you can build cashback faster. Every Monday, the cashback gets added automatically to your partypoker balance. The money doesn't need to be unlocked and there's no challenge to complete – the cash is yours.
By playing on the Fast Forward tables, you can earn up to 55% cashback on all of your rake.
Rush Poker Strategy
There are many similarities between a normal cash game and a rush game, but you need to adjust your strategy a little bit.
You won't be sitting with the same players every hand, so you must think differently about your table image and the dynamics between players. For the players you don't know, apply a consistent strategy with a clear range of preflop hands. Also, assume that any experienced player will be using a HUD (heads-up display), so they might understand your play style a little.
Use a HUD if your poker site allows it. You're going to see a lot of different players at the table, many more than you would at a regular cash game table. Keep track of important details by using a heads-up display so that you make decisions with more awareness. PokerStars is one of the sites that allows HUDs at their Zoom tables.
Be aware that you might face tougher competition at first, so start at micro or low stakes and develop your skills. If you can stabilize and get your win rate in a good place, you'll become a strong player in rush games.
Is There a Way to Practice for Free?
Poker sites with play money usually let you try fast-fold poker for free online, but there's probably nobody else in the player pool. If you are looking for ways to practice and even win small amounts of cash, freerolls are your best bet.
Check the free online tournaments running today and compete for cash or tournament tickets.